How to Move and Store Your Inflatable Bounce House
If you're looking for a fun activity to keep the kids entertained, an inflatable bounce house can be just the thing! Not only is it fun for everyone, but it can also provide hours of outdoor play. Looking to purchase one for your kiddos but concerned about where to put it and how to get it around? Here are helpful tips and tricks behind storing and moving an inflatable bounce house. So what are you waiting for? Let's get started!
1. Choose a container slightly larger than your bounce house when rolled up, making sure to pack as much air out as possible
A large plastic tub will be easier to move and provide protection from dust and sharp objects. If nothing else is available, the box the bounce house is shipped in will work as well.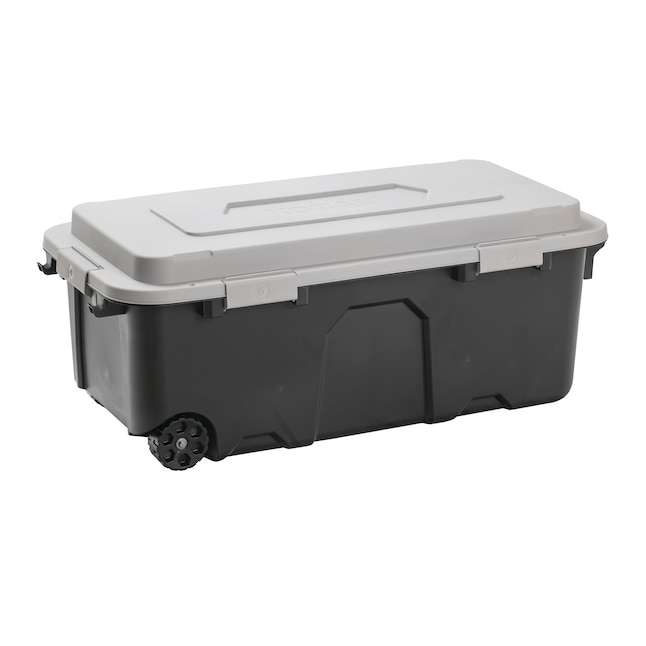 (Kobalt Storage Tote With Wheels: Lowes.com)
2. Open the zipper of the bounce house and deflate it completely
Be patient, as this may take a few moments to complete! 
3. Fold the bounce house as recommended by the manufacturer
Along with your unit, you should receive instructions on how to properly fold the inflatable. Another recommendation is to always film yourself opening the inflatable for the first time so you can easily re-watch the process and work backward in folding. 
4. Seal up the storage container and store it in a dry place
A container with a secure lid is vital. This will keep any contaminants or small critters out of the inflatable. It will also stop any damage and mold from the elements.
5. Tools to transport your bounce house
Moving an inflatable bounce house stored in a sealed plastic box can be tricky! Luckily, using a dolly, furniture mover, storage container with wheels, or heavy-duty tarp underneath the bounce house can make the task much easier. When handling the inflatable bounce house box, it is important to remember that safety should come first as always - be careful when lifting it and make sure to use proper back support for heavier items. Moving containers with wheels are a great way to transport such large items without fear of injury from overexertion. Being mindful of what you are doing will go a long way when attempting to move your inflatable bounce house storage box.
Having an inflatable bounce house at home is a great way to maximize your potential for exercise and fun! Being prepared with dedicated storage and a location to keep it safe makes setup and teardown a breeze. Always be sure to be careful while lifting heavy loads, to avoid injury to yourself and others. Luckily, Hero Kiddo makes a dedicated lineup of home use inflatables that are both lightweight and durable! The Crayon Party House (JOH-Crayon13) comes in at 13' x 13' ft and is perfect for smaller areas! The Caterpillar Water Slide and Bounce House (JOK-CaterPark17) is excellent for those warmer days in the backyard. Both made from lightweight vinyl that makes them up to 30% - 50% lighter than most bounce houses!