SHOULD YOU BUY OR RENT AN INFLATABLE BOUNCE HOUSE?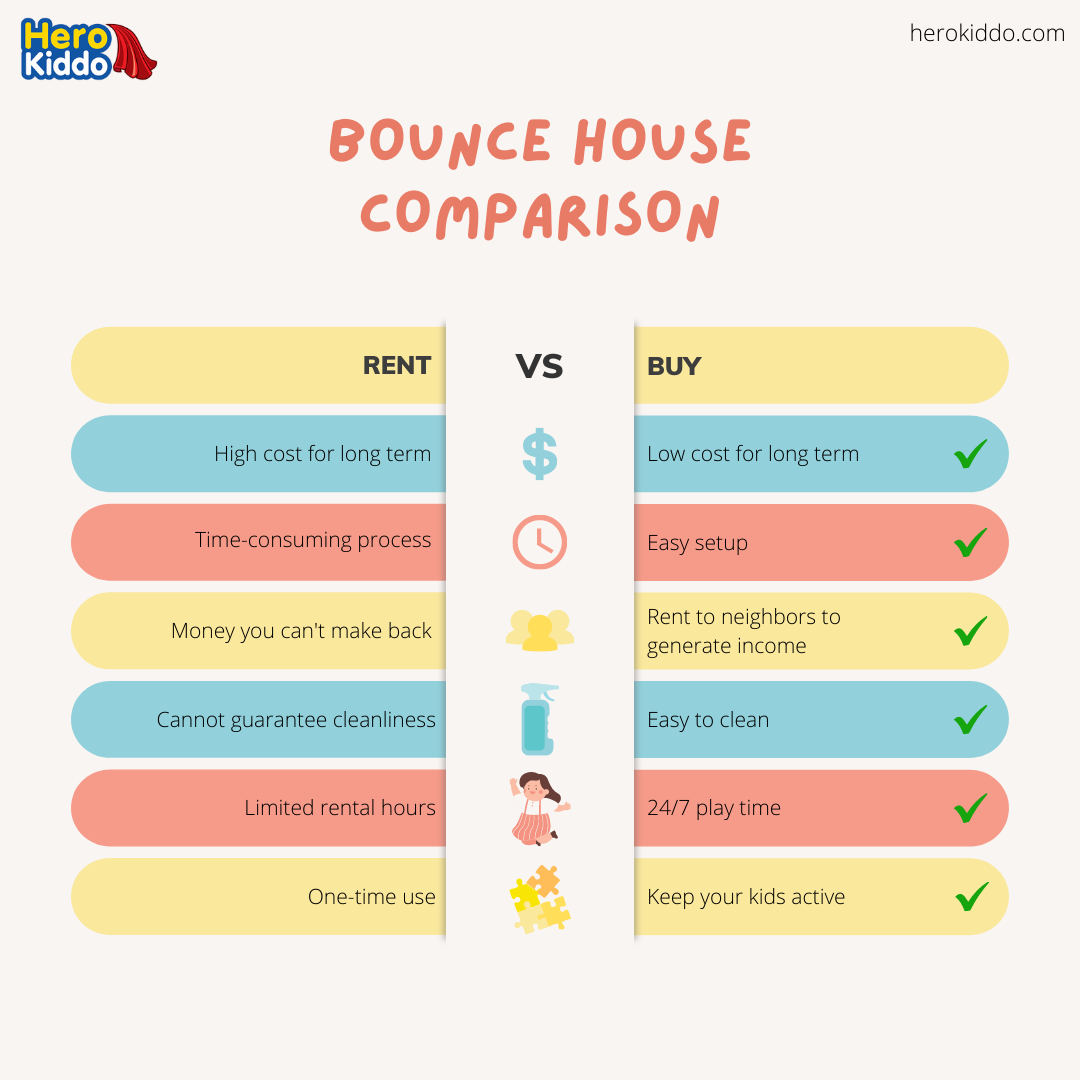 To Buy Or Rent An Inflatable?
Have you ever had thoughts of buying a bounce house inflatable instead of renting one? How much a bounce house costs may be the first thing that comes to mind, but there are also a number of other important factors that you may want to consider when making your decision.
Great Investment: To Buy A Bounce house.
With the average rental price of bounce house inflatables across the US ranging from $300 to $800 for an 8-hour rental depending on the size and type of the rental, buying a bounce house would be a worthwhile investment in the long term. This price range also doesn't factor in possible delivery, setup, and cleanup fees that most rental companies would charge every time. Our rental-grade bounce houses currently start at $998 while our slides and combo units, such as the Tropical Breeze Bounce House And Single Slide With Pool, currently start at $1298. The low-end price range of rental inflatables usually only provide classic bouncers that have a small 13 ft by 13 ft single jumping area, mesh walls, and no roof. That means that if you were to rent one of these inflatables 5 times annually, you would have already spent more than if you were to invest in an inflatable bounce house made of high-quality commercial-grade PVC vinyl that you could use for years on end.
Easy Setup And Put Down
The amount of time it takes to set up, take down, and clean an inflatable is a major factor that you may be considering. With easy-to-follow instructions, setting up your own inflatables should be a simple and stress-free process and could easily be completed by yourself. Meanwhile, hiring a rental company would require a period of waiting time. There would also be certain busier seasons where it would be very difficult to reserve a spot.
Paying Off by Renting Out
When buying a bounce house inflatable, you could also think of renting it out to your friends, family, or neighbors for some profit or return on your investment. Renting out your bounce house just a few times would return the amount of money you initially invested. Our inflatables are 40% lighter than rental grade bounce houses without sacrificing quality, which makes them easy to transport with no more than 2 people needed. They are also effortless to deflate and roll up into a compact bundle that could easily fit in your preferred vehicle.
Easy to clean and sanertize
It is very difficult to guarantee the cleanliness of the produts that rental companies provide as these inflatables are consistently being used by dozens of kids every year. Many times, there is a cleaning fee that must be paid even if you don't know exactly how thoroughly these bounce houses are being cleaned. Owning your own bounce house provides the advantage of knowing exactly how clean and safe the jumping environment for your child is. Our water-repellent vinyl material is also easy to clean and sanitize at any time.
Endless Bouncing Fun
Owning your own bounce house and water slide inflatables mean that your children would be able to go for a jump session whenever they want. Most of the time, inflatable rental companies only allow up to 8 hours of play time, so if your kids wanted to jump for more hours or even days, you would have to rent the same inflatable over and over again. Owning one would allow you to pull it out for any parties you are holding and would surely become the main attraction at every event. 
Quality Time Away From Screens
With a bounce house so easily accessible to your kids, they would be more likely to take breaks from the screen and spend more time outside getting exercise instead of jumping all over the house. It would also allow you to spend some quality time with your kids as our bounce houses are fit for both adults and children. Renting an inflatable would only allow for play during special occasions and events, which limits the usability of the product. Why limit the jumps if you can get endless enjoyment and entertainment?